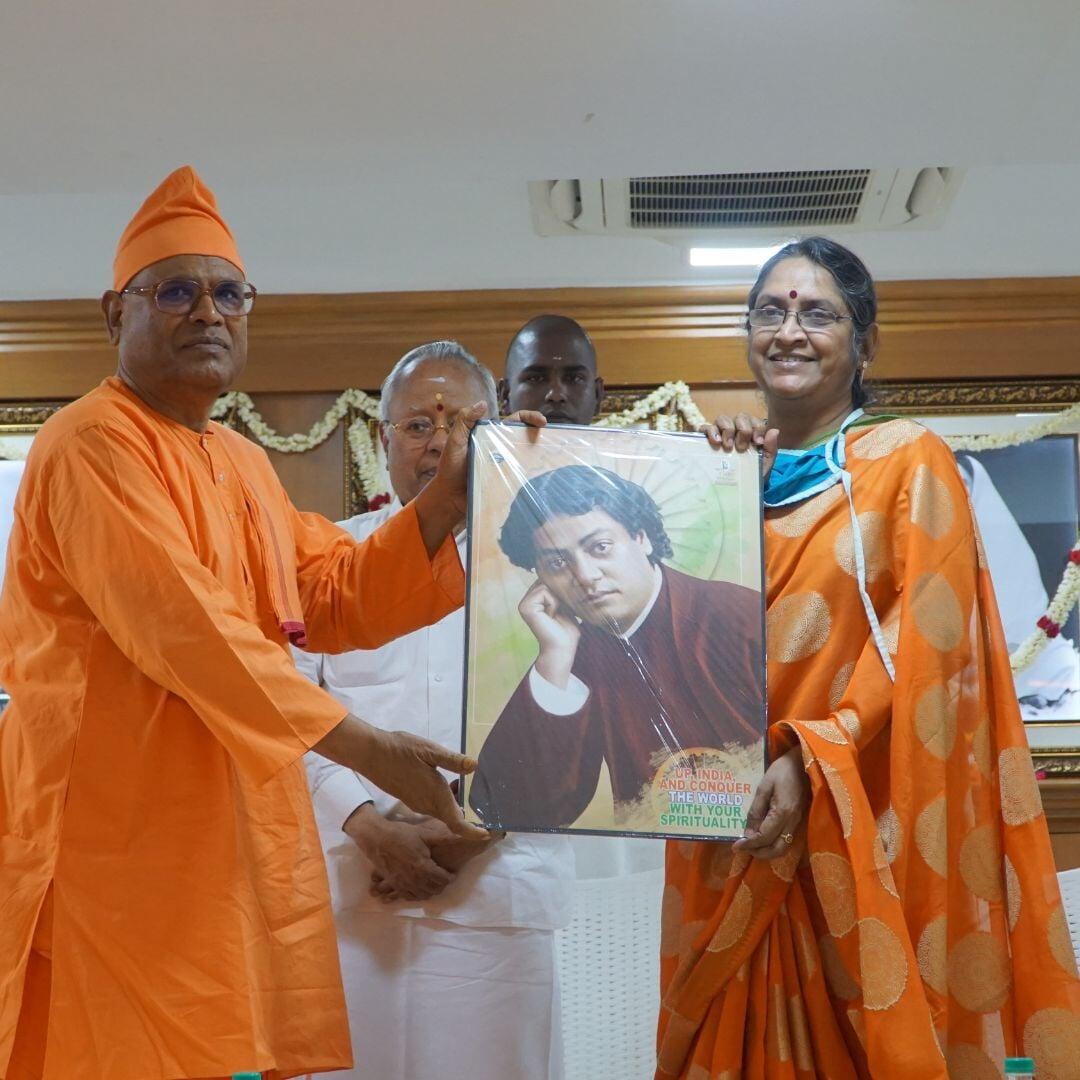 Under the initiative of Swami Vivekananda, the Ramakrishna Mission was founded on 1st May, 1897.
Sri Ramakrishna, during his life time trained a group of young disciples to be the torch bearers of his message, and through them laid the foundation of the new Monastic Order, which came to be known as Ramakrishna Math and Ramakrishna Mission. These twin organisations have the motto "For One's own liberation and for the welfare of the world."
The Math and the Mission have 265 branch centres throughout the world through which spiritual and social service activities are carried out.
Sri Ramakrishna Math, Chennai celebrated the 125th Anniversary of the Mission "Foundation Day" on 1st May, 2022. A function was held at "Ramakrishnananda Hall" at Chennai Math between 4:30 to 8:00 p.m. Some Swamis of the Math, leading industrialist Dr. Nalli Kuppusamy Chetty, Dr. Sudha Seshayyan, Vice-Chancellor, Dr. MGR Medical University, Chennai, and eminent writer Prof. Bharathi Chandru were the speakers in the function.
The function began with Arati to Holy Trio and Vedaparayanam. Opening song was rendered by Swami Ishapremananda, In-charge, Vivekanandar Illam.
Swami Dharmishthananda, Manager, welcomed the guests and the audience. Compering was done by Swami Suprajnananda.
Swami Mahamedhananda, Editor, The Vedanta Kesari read from the Historical Proceedings on the General Body meeting of the Ramakrishna Mission Association held on
1st May, 1897, and chaired by Swami Vivekananda. A book titled "Ramakrishna Mission: The Genesis of an Ascetic Order" was released on this occasion by
Swami Sukhadevanandaji, Secretary, Vivekananda College, Chennai.
Speech by Dr. Nalli Kuppuswami Chettiar

Dr. Nalli Kuppuswami Chettiar said the morals taught by the educational institutions of Ramakrishna Mission build character and increase the mental strength and concentration of the students.
Speech by Swami Satyajnanananda

Swami Satyajnanananda, Secretary, Ramakrishna Mission Students' Home, said the important message given by the Mission is "Jeeva Seva is Siva Seva". The Mission has spent more than Rs. 800 Crores during the last financial year for implementing various social welfare schemes for the benefit of the poor including people in tribal areas.
Speech by Dr. Sudhaseshayyan
Dr. Sudhaseshayyan, Vice-Chancellor, Dr. MGR Medical University, said money, social status, etc. will not of be any help to a person, for whatever earned will be of no value, when natural calamities like flood, earth quake, takes place. Love and affection among the human beings are of value in this worldly life and people should develop that culture. She quoted incidents from Ramayana about the IQ of Hanuman in solving the problem when faced with a difficult situation. Ramakrishna Math is doing the seva disregarding the difficulties they face. Only bakthi and human values are needed for the society.
Speech by Professor Smt. Bharathi
Professor Smt. Bharathi Chandru recalled her connections with Ramakrishna Math from her school days. She was very much appreciative of the service activities of Ramakrishna Math, especially in the Rural Centre at Meyyur.
Prof. Indira and Thiru Siva, shared their experiences during their long association with the Math.
Speech by Swami Sukhadevananda
Swami Sukhadevananda, Secretary, Vivekananda Vidyapith, in his Benedictory Address said that remembering and rededicating values handed over to us is our duty.
He said, we should not forget the role of Holy Mother Sri Saradevi, whom Swami Vivekananda called Sangha Janani. It is because of her grace that the Sangha came into existence.
Swami Vivekananda, on his return from America landed on Indian soil on 26th January, 1897, and later that day become our Republic Day. He quoted Roman Rolla, who said "I cannot touch the words of Swami Vivekananda without experiencing electric shock". He said a great responsibility is given to us, and it is our duty to maintain the purity of the movement, which has passed through many difficult phases. He invoked the blessings of Sri Ramakrishna and said his love will protect us from all dangers.
Swami Apavargananda, Editor, Sri Ramakrishna Vijayam gave the Vote of Thanks.
After Arati, Shri Vijay Siva and his group rendered an excellent musical concert.