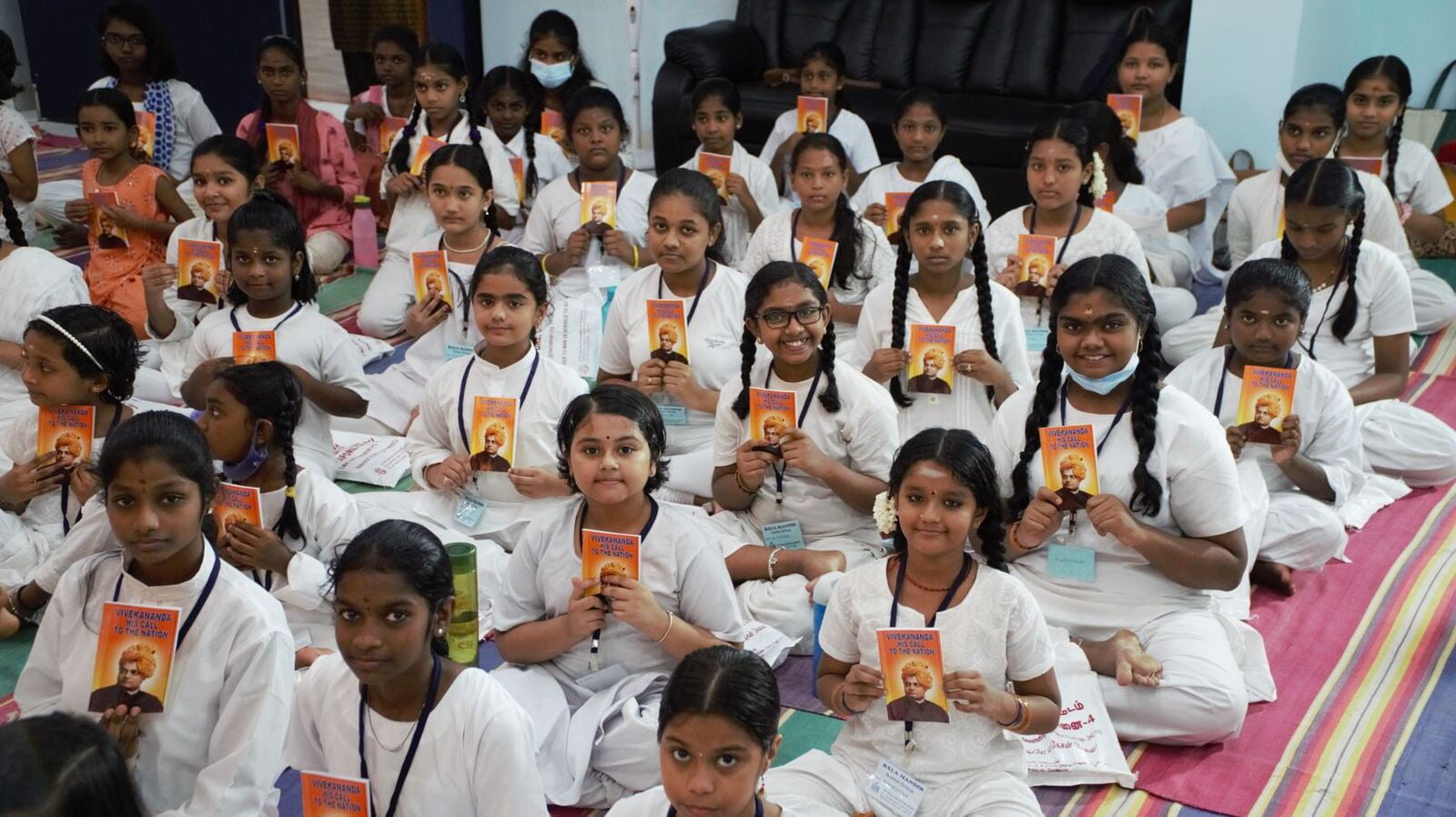 Bala Mandir Summer Camp for children from the age of 8 to 13 was inaugurated on 15th May 2022, at the Vivekananda Institute of Human Excellence, Sri Ramakrishna Math Chennai. Normally the camp used to be for a month in the month of May every year, but due to examinations scheduled for the first fortnight of May, it was held for 15 days only. In spite of short notice 125 children were enrolled. Along with their parents all the children attended the function.
The function started with Arati to The Holy Trio and Vedic chanting by Swami Suprajnananda and Brahmacharins, at 9 am.
The Chief Guest for the occasion was Hon'ble Justice L.S. Sathyamurthy. After the introduction about the theme of Balamandir by Sri Srinivasan, Justice L.S. Sathyamurthy addressed the gathering. He pointed out the responsibility of the parents in bringing up children in the right direction. He quoted a familiar moral story about the behaviour of a group of monkeys and encouraged the students to use the modern electronic gadgets for improving their knowledge. He further advised them to follow Swami Vivekananda as their role model. His presentation was very simple to be able to be grasped by the young ones.
Next Sri V. Srikant, Advocate, addressed the gathering. He enlightened the children about the famous story of Mylapore, how the name was derived by the penance by Parvathy, the concert of Lord Shiva, in the guise of a peacock.
Swami Dharmishthananda Maharaj, Manager, gave benedictory address. This was followed by regular class. In this camp children are taught Bhajans, Moral Stories, Slokas, Drawing and Yoga. The classes are conducted by monks, teachers and volunteers. The session was over by 12.30 pm. Refreshments were served to children in between the classes and Prasadam at the end.