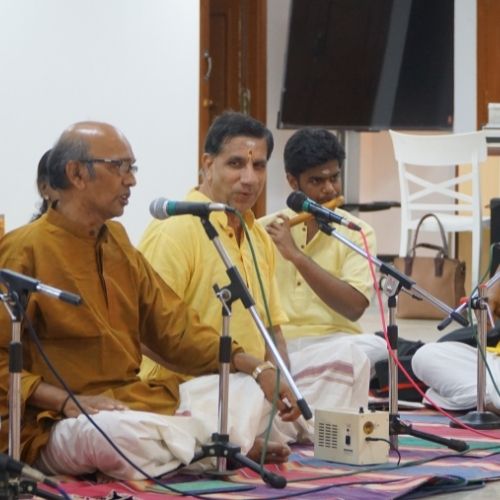 Sri Sadguru Tyagabrahma Aradhana was celebrated at Sri Ramakrishna Math,
Chennai on 15 April 2022. The function started at 4.30 p.m.
Swami
Suprajnananda welcomed the gathering and the artists.
He then gave a talk about Sadguru Tyagabrahma. He narrated some
incidents from the life of Sri Tyagaraja and about his Rama Bhakti. He said
Sri Tyagaraja learnt music from Narada Maharishi who taught him Nadha
Brahma and Bhakti also.
His father was also a Rama Bhakta.
The music group led by Sri. Kolkata K. Vijayaraghavan was accompanied in vocal by Kolkata Shankar, Madurai Rajaram, Meenakshi Srinivasan, Lakshmi Vijayaraghavan and Master Sreenath, on Violin by Kishore, on Flute by R.S.Adhvaith, on Ghatam by J.Ramdass, and on Mirudangam by Manikkudi Chandrasekhar, K. Seetha Raman, Thirucherai Kovshik, Kolkatta K. Vasudevan.
The Programme came to an end with Mangala Kirtanai.