The Below article got published in India Express on 9th April 2023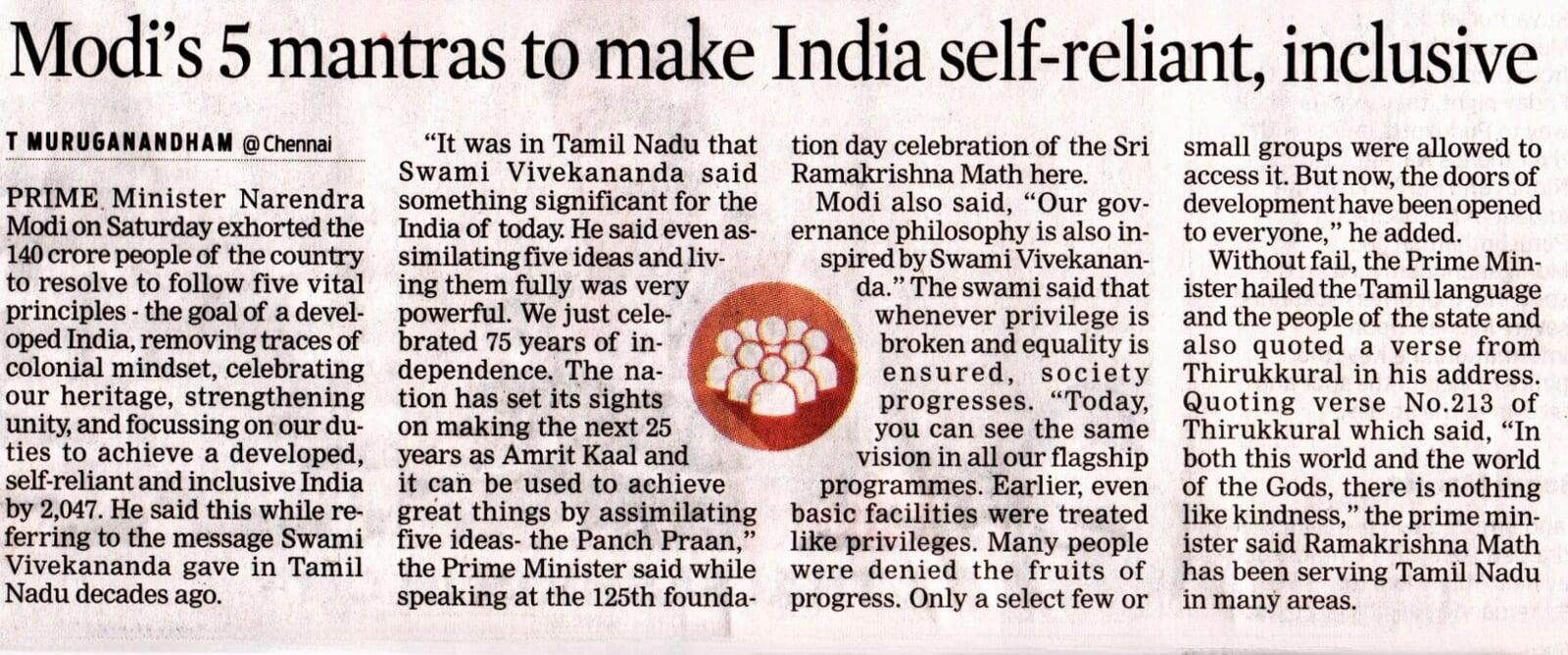 Modi's 5 mantras to make India self-reliant, inclusive
PRIME Minister Narendra Modi on Saturday exhorted the 140 crore people of the country to resolve to follow five vital principles - the goal of a devel- oped India, removing traces of colonial mindset, celebrating our heritage, strengthening unity, and focussing on our du- ties to achieve a developed, self-reliant and inclusive India by 2,047. He said this while referring to the message Swami Vivekananda gave in Tamil Nadu decades ago.
"It was in Tamil Nadu that day celebration Swami Vivekananda said Ramakrishna Math something significant for the India of today. He said even assimilating five ideas and living them fully was very powerful. We just celebrated 75 years of in- dependence. The nation has set its sights on making the next 25 years as Amrit Kaal and it can be used to achieve great things by assimilating five ideas the Panch Praan," the Prime Minister said while speaking at the 125th foundation day celebration of the Sri da said Ramakrishna Math here.
Modi also said, "Our governance philosophy is also inspired by Swami Vivekananda." The swami said that whenever privilege is broken and equality is ensured, society progresses. "Today, you can see the same vision in all our flagship programmes. Earlier, even basic facilities were treated like privileges. Many people were denied the fruits of progress. Only a select few or small groups were allowed to access it. But now, the doors of development have been opened to everyone," he added.
Without fail, the Prime Minister hailed the Tamil language and the people of the state and also quoted a verse from Thirukkural in his address. Quoting verse No.213 of Thirukkural which said, "In both this world and the world of the Gods, there is nothing like kindness," the prime minister said Ramakrishna Math has been serving Tamil Nadu in many areas.

The Below article got published in Times of India on 9th April 2023
Modi: Love Tamil language, culture & vibe of Chennai
Earlier, Modi inaugurated the new terminal building of Chennai International Airport, flagged off the Chennai - Coimbatore Vande Bharat Express and took part in the 125th anniversary celebrations of Sri Ramakrishna Mutt at Vivekananda House. Modi left for Mysuru on Saturday night. He is scheduled to reach Masinagudi by a chopper on Sunday to visit Mudumalai Tiger Reserve.
Amid chants of 'Modi, Modi' at Alstom cricket ground in Pallavaram, where the event was held, the PM said India had been witnessing a revolution in infrastructure building, driven by speed and scale. The NDA government had set aside a record 10 lakh crore towards infrastructure in the Union budget, he said.
"This is five times more than that of 2014. The amount set aside for train infrastructure is also an all-time record," Modi said. The length of national highways added per year doubled in comparison with the pre 2014 era. Earlier, 600 route km of rail lines were electrified, while it reaches about 4,000 route km a year today.
The number of medical colleges rose to 660 now from 380 in 2014. "In the last nine years, our country has almost tripled the number of AIIMS. We are the world's number one in digital transactions. We have among the world's most inexpensive mobile data.
Over 6 lakh km of optic fibre has been laid, connecting almost 2 lakh gram panchayats. And today, India has more rural internet users than urban users," the PM said.
Earlier, at the 125th anniversary celebrations of Ramakrishna Math in Mylapore, Modi said "I am among the Tamil people, for whom I have great affection. I love the Tamil language, Tamil culture and the vibe of Chennai. Today, I got the opportunity to visit Vivekananda House. Swami Vivekananda had stayed here after he returned from his famous trip to the West. Meditating here was a special experience."
In his address, chief minister M K Stalin said the country would prosper only when the Union government of diverse, multiethnic and multilingual states continuously implemented the programmes required for the development of the states.
"Perarignar Anna (C N Annadurai) and Muthamizharignar Kalaignar (M Karunanidhi) used to insist that if there was to be true federalism, the states should remain autonomous," he said.
"Since the prime minister was also a chief minister of a state, I think he will also understand my request."
BJP state president K Annamalai was not present at the event while AIADMK general secretary Edappadi K Palaniswami and his rival O Panneerselvam visited the airport to see off Modi.