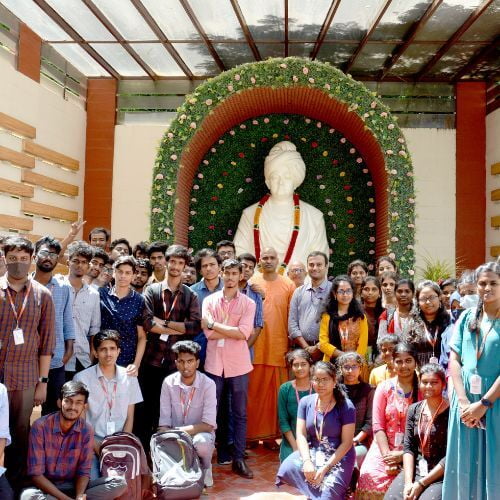 As part of the initiative to reach Youth in the age group of 13-25 years–8th to 12th Class students, for schools, and UG-PG students studying in colleges–and in accordance with Swami Vivekananda's vision of— 'man-making', Vivekananda Cultural Centre (a unit of Sri Ramakrishna Math–Chennai) has been conducting Personality Enhancement/Value Education/Life Skills programs, named as 'Catch Them Young' specially designed to make an individual—strong, self-confident, clear thinker—a contributor and useful member of society.
The first program in 25th May this this year (after the break of three years due to the pandemic) was conducted for 42 students from the philosophy department of A M Jain College. Catch Them Young (50th batch) was conducted on Wed–21st Sep 2022 from 9:30 am to 1:30 pm. 49 students participated from all branches of Ethics Club of Rajalakshmi Engineering College accompanied by Prof. Raja Raman, Asst. Prof. Dept. of Computer Sci. Volunteer & Resource Person, Smt. Varsha Sundararajan, conducted the first session which was interactive/motivational using simple but effective activities of mind management and developing success skills. Swami Raghunayakananda ji, Director of Vivekananda Cultural Centre, conducted a session on the topic of 'A Journey from Self-Centred to Nation-Centred Life'.
A special booklet 'Way to Success' by Swami Vivekananda, along with certificate of participation were given to all. The program ended with a guided tour—"Experience Vivekananda"—of the historic Vivekanandar Illam Heritage Museum–which houses the meditation room where Swami Vivekananda stayed for nine days in February-1897. A few glimpses from the program are shown below.