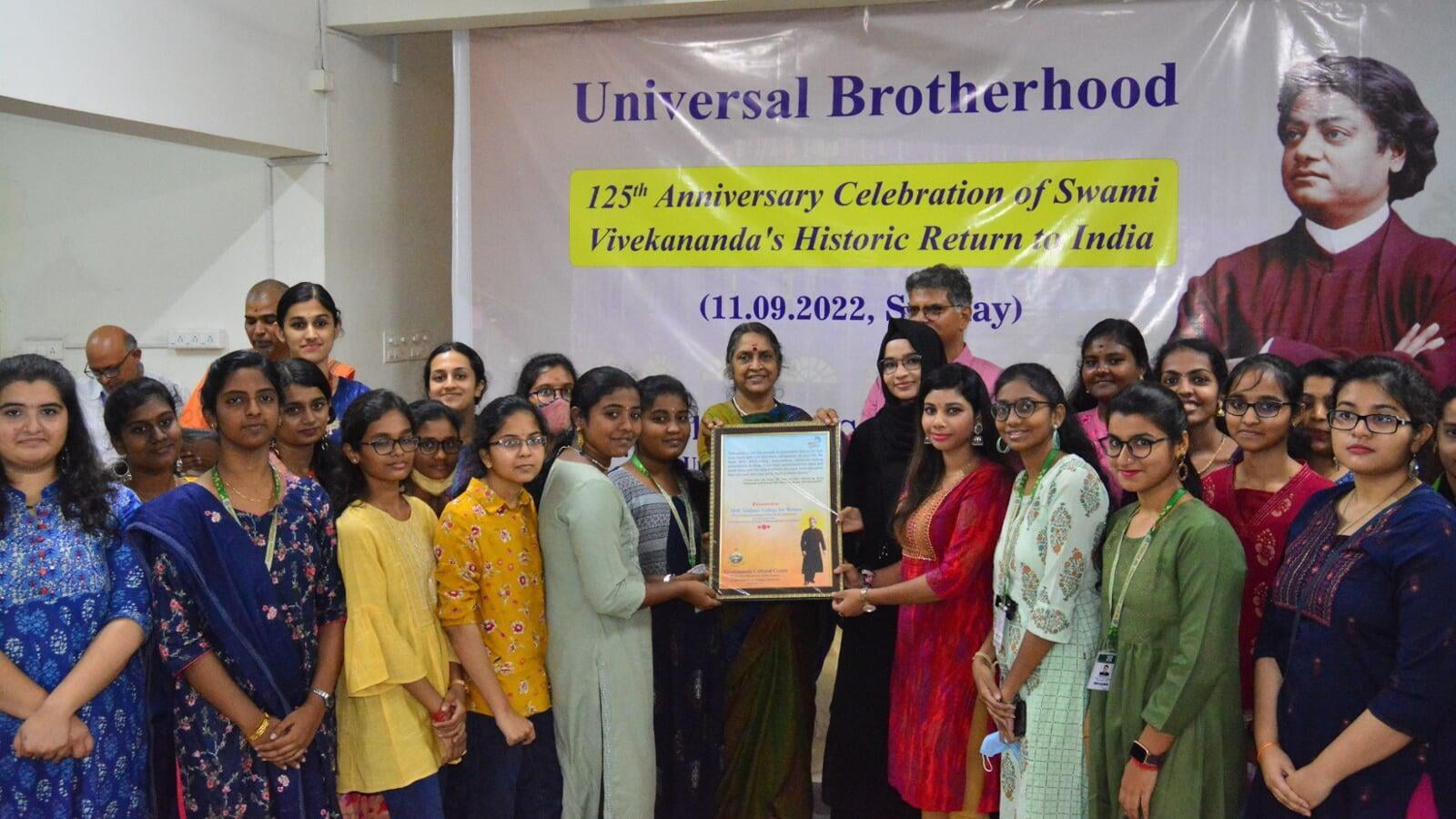 September 11–Universal Brotherhood Day in connection with 125th Anniversary of Swami Vivekananda's Return to India–
Open Book Competition about the lectures delivered by him in Chennai (then Madras) in February 1897.
The prize distribution function was arranged for winners with a memento having an inspiring quotation of Swami Vivekananda, along with a certificate and booklet of Swami Vivekananda.
The program was inaugurated by the traditional lighting of the lamp by Chief Guest Sri Ganesh Ji, Divisional Railway Manager–Chennai Zone in the presence of Shri Sharad Vivek Sagar, CEO-Dexterity Global, Smt. Sudha Seshayyan, Vive-Chancellor Dr MGR Medical University, in presence of Swami Raghunayakananda, Director of Vivekananda Cultural Centre
(A Unit of Sri Ramakrishna Math-Chennai), who welcomed all present with a brief introduction about Sep-11th, Universal Brotherhood Day and the purpose and relevance behind spreading awareness about Swami Vivekananda's lectures delivered in Madras in 1893. About 5000+ students from 26 institutions in Chennai and a few surrounding districts were reached through Open Book Competition, from 12th Jan onwards (National Youth Day). About 265 winners were selected for prizes. About 185+ winners from Chennai colleges, were present during the prize distribution ceremony on 11th Sep 2022 between 3 to 5 pm.
In his special talk in English, Shri Sharad Vivek Sagar, CEO of Dexterity Global-Patna, a globally renowned social entrepreneur, though leader, powerful orator and a widely followed youth icon, who has been called 'the Vivekananda of 21st Century' by India's leading media house Divya Bhaskar, gave a scintillating address on how he actualized at the age of 16 his dream of becoming one among the 100 youth that Swami Vivekananda dreamt of creating–to revolutionize the world. He spoke about the guaranteed success of every youth who will implement the powerful and man-making teachings of Swami Vivekananda.
During the course of her talk in Tamil, Dr Sudha Seshayyan, Vice-Chancellor of Dr MGR University in her homely style of delivery, imprinted among the youth present the need to understand the pride that Swami Vivekananda brough to our ancient and rich culture after the Sep-11 Chicago address, and bring back our ancient glory by following his life and teachings.
In his Chief Guest address, Sri Ganesh Ji, Divisional Railway manager-Chennai Zone, spoke about his being inspired by Ramakrishna Math and Mission from childhood, and through practical examples explained how his teachings are being implemented using modern technology in public services like railways etc.